[ENG]
CAFÉ BALDUIN
Around every two months, we are organising an open cafe/bar evening in Hafenstraße.
Join us for a night of music, drinks, informal discussion and an open mic session.
This events are in solidarity with refugees, migrants and undocumented people who get 'controlled' in Hamburg. Racist police harassment occurs on a daily basis across Hamburg, and particularly on and around the Balduintreppe and Hafenstraße, has brutal, and sometimes fatal, consquences. With this regular cafe evening we open a space to share with undocumented people and those who support them.
More information here: https://de-de.facebook.com/CafeBalduintreppe/
[DEU]
CAFÉ BALDUIN
Etwa alle zwei Monate organisieren wir einen offenen Café/Bar-Abend in der Hafenstraße.
Dieses Event findet in Solidarität mit Geflüchteten, Migrant_innen und Menschen ohne Papiere statt, die in Hamburg – insbesondere um die Balduintreppe und die Hafenstraße – kontrolliert werden. Diese Kontrollen sind oft brutal und haben manchmal fatale Folgen.
Mehr Informationen hier: https://de-de.facebook.com/CafeBalduintreppe/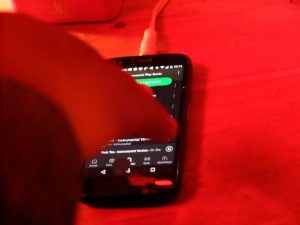 2018
[ENG]
Remember Yaya Jabbi!
Manifestation: 18.02.2018 | 2-4pm | Yaya-Jabbi-Circle (at Park Fiction)

Yaya Jabbi* was arrested by the police on the 14 January 2016 at Hamburger Berg. He was accused of being in possession of 1.65 grams of cannabis. Four days later he was brought to Hahnöfersand prison. In the night from the 18 – 19 February. Yaya died in his cell. According to the judicial authority he committed suicide. However, the judicial authority had previously determined there was no danger of Yaya committing suicide. Yaya's family and friends are left behind without justice, without truth.
One day before the annual day of Yaya's death, we want to break through this silence and express our grief, our anger and remember Yaya, as well as other victims of this racist system and racist violence. Flowers are welcome.
Stop the racist police controls – shut down the 'Task Force'!
Stop war on migrants!
Freedom of movement is a human right!
*The original spelling of the name is Yaya Jabbi. In the German system he was documented as 'Jaja Diabi'.
[DEU]
Erinnert Yaya Jabbi!
Kundgebung: 18.02.2018 | 14-16 Uhr | Yaya-Jabbie-Circle (beim Park Fiction)
Yaya Jabbi* wurde am 14. Januar 2016 am Hamburger Berg von der Polizei festgenommen. Ihm wurde vorgeworfen 1,65 Gramm Cannabis zu besitzen. Vier Tage später wurde er ins Gefängnis Hahnöfersand verlegt. In der Nacht vom 18. auf den 19. Februar 2016 starb Yaya in seiner Zelle. Laut Justizbehörde hat Yaya Suizid begangen. Laut Justizbehörde gab es jedoch im Vorwege keine Anzeichen einer möglichen Suizidgefahr. Yaya's Freunde und Familie bleiben zurück ohne Gerechtigkeit, ohne Wahrheit.
Einen Tag vor Yaya's Todestag wollen wir die Stille durchbrechen und unsere Trauer und Wut ausdrücken und Yaya erinnern, genauso wie anderer Opfer des rassistischen Systems und rassistischer Gewalt. Du kannst Blumen mitbringen, wenn du möchtest.
Stoppt die rassistischen Polizeikontrollen – nieder mit der 'Task Force'!
Stoppt den Krieg gegen Migrant_innen!
Bewegungsfreiheit ist ein Menschenrecht!
*Die richtige Schreibweise seines Namens ist Yaya Jabbi. Im deutschen System wurde sein Name als 'Jaja Diabi' dokumentiert.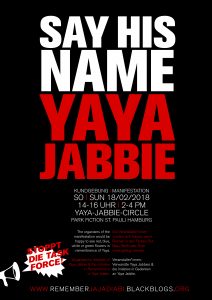 2017
[ENG]
On the 19th of February 2017 we remembered and mourned Jaja Diabi with around 400 people in a manifestation. This was the first anniversary of his death.
Here you can find audios from the manifestation.
[DEU]
Am 19. Februar 2017 haben wir Jaja Diabi erinnert und getrauert mit etwa 400 Personen in From einer Kundgebung. Es war sein erster Todestag.
Hier gibt es Audios von der Kundgebung.
[ENG]
Remember Jaja Diabi!
Remember: to act!
On the 18th of February we had a Conference in Remembrance of Jaja Diabi, to which we invited different initiatives, that organise in remembrance of somebody who was killed for racist reasons, against racist police controls and affected people. In different working phases, we mainly spoke about the topics:
– Racism kills! – Remembrance of people who were killed for racist reasons, or inside the racist system
– Stop racist police controls
– Beyond drug labour…
Furthermore we watched 'Les coups de leurs privilèges' (2016, 50 min, Frc with German subtitles, https://lescoupsdeleursprivileges.com/), a movie about self organisation of affected people of racist police violence in France. Regisseur Sabrina Thawra was there to discuss with us.
[DEU]
Remember Jaja Diabi!
Remember: to act!
Am 18/19. Februar 2017 gab es ein Erinnerungs-Wochenende in Gedenken an Jaja Diabi.
Am Samstag haben wir uns mit verschiedenen anderen Gruppen getroffen, die sich in Gedenken an Menschen organisieren, denen aus rassistischen Motiven das Leben genommen wurde, die sich gegen rassistische Polizeikontollen organisieren und Betroffene. Wir haben in verschiedenen Arbeitsphasen vor allem über die folgenden Themen gesprochen:
– Rassismus tötet! – Gedenken und Erinnern an die Todesopfer rassistischer Gewalt, bzw. des rassistischen Systems
– Stoppt die rassistischen Polizeikontrollen
– Beyond drug labour …
Außderdem haben wir 'Les coups de leurs privilèges' (2016, 50 min, Frz mit deutschen UT, https://lescoupsdeleursprivileges.com/) gesehen, einen Film über die Selbstorganisierung von Betroffenen rassistischer Polizeigewalt in Frankreich. Die Regisseurin Sabrina Thawra war anwesend, um mit uns zu diskutieren.
2016
[ENG]
There was a very strong demonstration organised by the Initiative in Remembrance of Jaja Diabi (at the time a networking group) in June 2016.
[DEU]
Im Juni 2016 gab es eine sehr starke Demonstration, die von der Initiative in Gedenken an Jaja Diabi (zu dem Zeitpunkt noch ein Vernetzungstreffen).